Autumn 2016 Update - Winter Linseed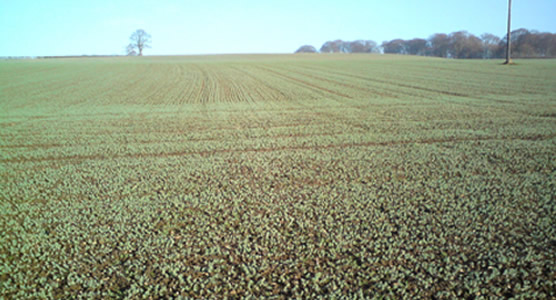 Current Crop Conditions
The vast majority of crops across the country are looking good, despite the cooler growing conditions during October compared with the same period in 2015. Crops generally range from 4 to 8 cm in height and black grass control, in the form of Centurion-Max, is going on once the crops have reached 4cm tall. Some early drilled crops have already received Folicur as a growth regulator but such advanced crops are really more an exception than the rule.
Dry conditions in East Anglia have hampered rop development this autumn with many growers reporting no serious rainfall incidents since the end of July. Crops have germinated and started to grow but have then stopped due to mositure stress. Plough and and Min-till crops are showing the greatest sigs of stress, while strip-till and zero-till crops are performing better, as moisture is preserved in the soil structure. In some cases the difference is as much as a three fold difference in height.
Looking Ahead
Crop management from now to Christmas should focus on grass weed control, with Crawler, or growth regulation in crops which will not receive Crawler.
If Crawler is to be used, please make sure that the winter linseed is at least 7 to 8 cm tall. It is VERY important that Crawler is applied before Christmas or early in the new year as it will halts crop growth for a period of 6 to 8 weeks.
If Crawler is not used, then autumn and winter growth regulation should be carried out with azole fungicides such as tebuconazole (e.g. Folicur) and metconazole (e.g. Sunorg pro)