Millet Agronomy
Geographical Area:
Anywhere in the UK.
Soil Type:
Millet is a C4 plant (like Maize) and is very efficient in its use of water, which means that it is very drought resistant. It is particularly suited to light and medium soils. Avoid soils likely to become waterlogged.
Drilling Date:
Millet is a C4 annual grass like Maize, meaning that it does NOT grow well at low temperatures, but really does well as temperatures increase. At planting the soil temperature needs to be a minimum of 10ºC, but 15ºC is better to ensure a very rapid emergence and establishment. The sowing window is likely to be late April through May
Row Width:
As for cereals.
Planting:
Ensure you start with a clean stubble. Sow shallowly into moisture - rolling is often beneficial.
Seed Rate:
20 kg/ha. Millet seed is about the size of Rape.
Weed Control:
There are EAMUs in place for Peak and Starane Hi-Load HL for broadleaved weeds. There is no post emergent control of grass weeds in Millet. The late sowing give excellent options for sterile seedbeds and cultural control of grassweeds.
PGR:
Not required.
Pests:
None.
Disease:
Not normally a problem. Rhycosporium type lesions may be seen on some leaves in some seasons. Control is not usually justified and there are no fungicides cleared for use on the crop.
Fertiliser:
P, K and S - typically as for Spring cereals and should be applied to the seedbed. Nitrogen can be applied and incorporated into the seedbed 1 week before drilling or split pre and post emergent. Nitrogen demand is low, but for index 0 situations (following a straw crop and with no recent organic manures) 120 kg/ha is ample.
Trace Elements:
Treat accordingly if deficiencies are common on the farm (routine on chalk soils).
Crop Height:
1.0 - 1.5 m.
Desiccation:
Desiccation mid to late August is required to even out the maturity of seeds. An EAMU is in place for Roundup.
Combining Date:
From mid-September. At harvest the seeds will be hard, like Cereal seeds.
Harvesting:
Direct combine. Millet does not shed its seeds, so patience is required. Millet combines like a Cereal.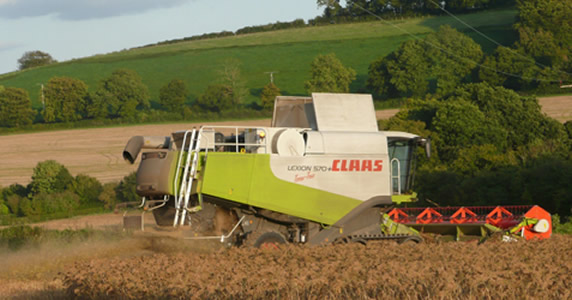 Crop Standards:
13% moisture, 2% admixture. Most crops will be harvested in the 15 – 18% moisture range so will need drying. Millet needs to be dried quickly, so the use of a batch or continuous flow drier is ideal. Premium Crops does offer drying facilities
Yield:
Likely range 2.5 – 3.5 t/ha
Value:
Range £250-£350/t.
Straw:
Can easily be chopped and incorporated.